Shvi'i shel Pesach
This past week Camelot hath been celebrating Passover (Pesach). The name "Pesach" comes from the Hebrew root "Pei-Samekh-Cheit" , meaning "to pass through, to pass over, to exempt or to spare". It refers to the fact that God "passed over" the houses of the Jews when he was slaying the firstborn of Egypt. "Pesach" is also the name of the sacrificial offering (a lamb) that was made in the Temple on this holiday.
For those who celebrate Passover it lasts seven days and ends on April 26th on this year 2011. The last two days commemorate the splitting of the Red Sea and are a full-fledged holidays with special prayer services and festive meals.
The Jews' Passover ( Medieval Miniature )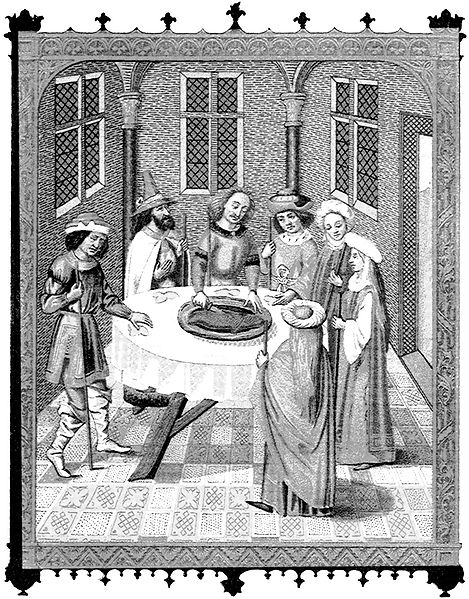 Facsimile of a miniature from a missel of fifteenth century ornamented with paintings of the School of Van Eyck. Bibl. de l'Arsenal, Th. lat., no 199. Project Gutenberg
Shvi'i shel Pesach is celebrated on both the seventh and eighth days of Passover. It commemorates the day the Jews left Egypt after 210 years in exile with almost 90 of those in miserable slavery. They headed towards the Promised Land and came to the Sea. Behind them in hot pursuit was Pharaoh, who had regretted his decision to let them go and his army of millions. They were trapped, but Hashem heard their cries and split the Sea, allowing them to pass through. The Children of Israel were saved by the miraculous "Splitting of the Sea".
For those who are facing insurmountable difficulties and feel trapped by each side, one should not despair. It is in the darkness that our soul finds wings. You are not alone in your anguish. We shall fly together.
Let us remember this wonderful miracle as we celebrate Passover in Camelot. King Arthur doth send the greatest blessings of love to all throughout the Kingdom.
With faith,
Lady Sharon
Scribe of Camelot